Steve Bannon dubbed the infamous Trump Tower meeting between Donald Trump Jr., Jared Kushner and Russian operatives as "treasonous" and "bad shit," according to an explosive new book by acclaimed journalist Michael Wolff.
The former White House strategist was quoted by Wolff, who was granted far-reaching access to the West Wing and senior administration officials over the last nine months to write a tell-all book about the White House, Fire and Fury, set for release on Jan. 9.
Bannon mocked President Donald Trump's eldest son and son-in-law for taking the meeting in hopes of acquiring dirt on Hillary Clinton, Trump's political opponent in the 2016 presidential race, as first revealed by The New York Times in July.
"The three senior guys in the campaign thought it was a good idea to meet with a foreign government inside Trump Tower in the conference room on the 25th floor — with no lawyers," Bannon told Wolff, according to The Guardian, which obtained a copy of the book.
He continued, "Even if you thought that this was not treasonous, or unpatriotic, or bad shit, and I happen to think it's all of that, you should have called the FBI immediately."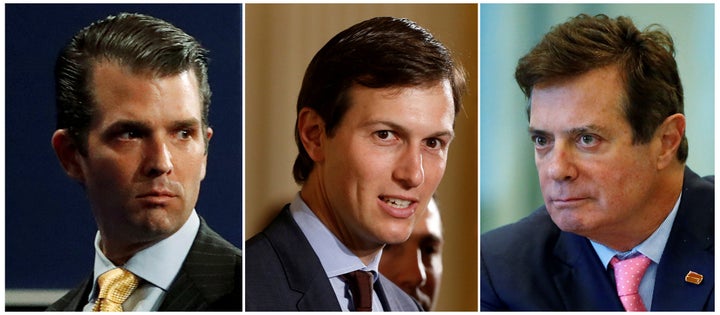 Bannon predicted special counsel Robert Mueller's investigation into possible collusion between Trump's 2016 campaign and the Russian government will focus on money laundering. 
"This is all about money laundering," Bannon told Wolff. "Mueller chose [senior prosecutor Andrew] Weissmann first and he is a money-laundering guy. Their path to fucking Trump goes right through Paul Manafort, Don Jr and Jared Kushner … It's as plain as a hair on your face."
Bannon suggested Kushner's business dealings with German financial juggernaut Deutsche Bank, which has loaned hundreds of millions of dollars to the Kushner family real estate business, would be problematic for the administration.
"The Kushner shit is greasy," Bannon said. "They're going to go right through that. They're going to roll those two guys up and say play me or trade me."
Four Trump associates have been indicted in connection to the probe, including former national security adviser Michael Flynn and former Trump campaign chairman Paul Manafort, who also attended the Trump Tower meeting. Manafort was indicted by a grand jury in October on charges of conspiracy and money laundering.
"They're going to crack Don Junior like an egg on national TV," he said, adding that the White House should reconsider its apparent lack of concern over the Mueller investigation. "They're sitting on a beach trying to stop a Category Five."